LED wall pack can be installed around warehouses and educational institutions to increase appeal, and also ideal for illuminating paths and perimeters, adding a sense of security to pedestrians. We have two types of walls mountable wall pack products for full cutoff and semi cut off with motion sensor, high output, low energy consumption to meet your needs. At the same time, we also have a quick-mounting bracket tool and a level in the DLC listed wallpacks which plays a proofreading function, making the whole installation process smoother and faster. You may even forget that you have installed it.
Easy install if with smart bracket, save labor cost. Choose from a variety of surface treatment options, such as black and bronze.
Power: 30W, 45W, 63W, 63W/45W/30W, 108W/90W/63W
Voltage: AC100-277V/120-347V/277-480V
Color temperature: 3000K, 4000K, 5000K, 3000K/4000K/5000K
Light efficacy: 130LM/W
Intelligent control: Photocell sensor
IP rating: IP65
Easy install if with smart bracket, save labor cost. Choose from a variety of surface treatment options, such as black, bronze and white.
Power: 40W-60W-90W-120W
Voltage: AC100-277V/120-347V/277-480V
Light efficacy: 130LM/W
Intelligent control: Daylight/Photocell sensor
IP rating: IP65
Request a quote to gain best price.
LED Wall Pack: Definitive guide
Wall pack, as its name suggests, is a commercial & industrial lighting fixture products for walls lighting that is primarily installed outside the building, such as houses, garages, warehouse, shop, etc., as well as building walkways and other places around it.
The traditional lamps are wallpacks fixture with a metal halide bulb, and the dlc listed LED wall packs is divided into many types:
Traditional commercial LED wall packs
Similar to the standard design of a traditional wall pack product, the LED wall packs come with a full glass lens. This lens enables a wider beam angle (120°) and the light is directed outwards and downwards, thus providing greater coverage around the parking lot and the building's exterior. The wall packs led equivalent table is as follows:
LED Wall Packs
Metal Halide equal
40w
5,200lumens
160w
60w
9,000lumens
250w
90w
13,500lumens
400w
120w
15,600lumens
1000w
LED cutoff wall pack
The Semi cut off wall pack is the most common, it is lighting farther than any other type of wall pack and security lighting, and the simultaneous outward and downward illumination provides greater coverage. Full cutoff led wall pack as the name suggests, in addition to the bottom of the fixtures, the LED commercial wall-mounted illuminator is completely covered and the light is only illuminated downwards. The Cut-off wall pack is ideal for dark sky area to minimize lights pollution.
Dusk to dawn led wall packs
LED wall packs lights with photocell Ideal for dusk to dawn applications around buildings, doorways, and loading. With the photocell sensor, it automatically lights up when sensing the ambient light dims. XSY lighting small watt wall packs are small in shape and can be used as security lights for entrances and building entrances. The large watt walpac can be used for commercial outdoor lighting.
Why Switching from a HID/HPS wall pack to LED?
| | | |
| --- | --- | --- |
| VS | LED | HID |
| CRI | 70-95 | >80 |
| CCT | from 2700K to 6500K | from 3000K to 5000K |
| Startup time | immediately | 15-30 mins |
| Light Directionality | 120° | 360° |
| Light Emissions | no | IR and UV light |
| Heat Emissions | produce very little heat | produce heavy heat |
| Light effect | 130lm/w | 70-100lm/w |
| Light source | bright, centralized | bright, disperse |
| Lifespan | >54,000hrs | 15,000-25,000hrs |
| Environmental protection | yes | no |
| Flicker | no | yes |
| Energy consumption | 20% | 100% |
| Price | high | low |
| Intelligent mode | photocell sensor | no |
| Maintenance | almost not | frequent |
| Bulbs broke | no | yes |
| IP rated | IP65 | no |
| Warranty | 5 years warranty | 1-2 years warranty |
Are you still willing to endure the lumen bounce of MH/HPS wallpacks product? Lumen bounce will lose about 30% of the bulb lumens in the reflector and lamp. In fact, a large amount of metal halide energy is burned essentially as heat rather than as light. Although the cost of purchasing HID and HPS lamps is not high, the follow-up costs (electricity, maintenance, labor) will be 1-2 times that of LED lights.
What is unique about LED wall packs? First of all, it can be configured with a photocell sensor, which can improve the efficiency of use and reduce the cost. Secondly, it uses durable die-casting heat sink for outdoor high temperature, heavy rain, and other harsh environments, its operating temperature is -25 ° to 45 °. Finally, different color temperature options: 2700K, 3000K, 4000K, 5000K, 6500K, etc. apply to application.
How to install wall pack with the quick mounting bracket?
1、Drill holes with percussion drill in line with the hole position from the wall. (note: cut off the power before mounting)
2、Use a hammer to drive the nylon expansion tube into the drilled hole on the wall.
3、Fix the bottom housing on the wall with a self-tapping screw.
4、Align the screws at the screw holes to fix the bracket on the product.
5、Wiring: AC/L match black; AC/N match white; PE/G match ground.
6、Mount the lamp on the bracket which you fix on the wall already after wiring finished.
7、Power-on and testing to check if the luminaire works normally, screw up at last if no problems. (note: keep the waterproof silicone ring at the original position.)
8、Finish installation.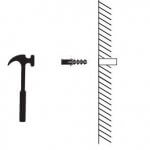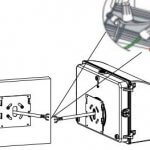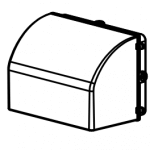 Thanks to this great flexibility and high quality design, these DLC listed led wall pack products are an excellent choice for almost any location, providing superior power and quality lighting every day. Not sure which lighting solution to choose? Just contact us. We are an experienced led light manufacturer and supplier in China.