LED SOLAR STREET LAMP - AIRSHIP SERIES (EBM)
Up to 10000 lumen(80W) High efficacy Nichia LED chip, 60000 hours/10 year lifetime.

EMS Energy management sysetem,ensure 10 rainy day back up.

Built-in MPPT technology to track the maximum sun for quick charging.

18 hours full brightness after full charge, or 36 hours in dimming mode.

Pure aluminum extruded housing, battery replaceable design.

IP66 Waterproof and pass 16 grade wind proof test.

Ajustable multiple installation angles either for straight single arm pole or curve double arms.

3 year warranty, 6 years long lifetime battery.
Model No.
Light Output
Light Efficacy
Solar Panel         (conversion rate)
Charging Time
Working Time
DIM Mode
Recommended Installation Height
Recommended Installation Distance
Battery
Warranty
Working Temperature
XSY-EBM-30
30W
4200lm

21%

10-11hours (6-7hours full bright sun)

Bright mode:18 hours; DIM mode:36 hours     (3 rainy days backup)
First 3 hours: full brightness, last 9 hours in dimmable mode (60% bright  with people, 30% bright without people)
4-6 m

25 m

222WH

3 Years

-20°Cto 60°C

XSY-EBM-40
40W
5600lm
388.5WH
XSY-EBM-60
60W
8100lm
6-8 m
444WH
XSY-EBM-80
80W
11000lm
8-10 m
583WH
EBM Series Solar Street Lamp
The intelligent MPPT controller with PIR motion sensor automatically controls and protects the operating state of the lamp, and the MPPT controller and energy management system (EMS) are matched to the PIR motion sensor. With a patented design, EBM solar street lamp easy to install and can be easily replaced. IP66 waterproof, 16 windproof.
Unique All In One Solar Street Lamp
Unique innovative design.

Germany imported solar panel up to 21% conversion rate(poly or mono crystalinesi cone solar panel).

Lamp Angle: Adjustable multiple angles.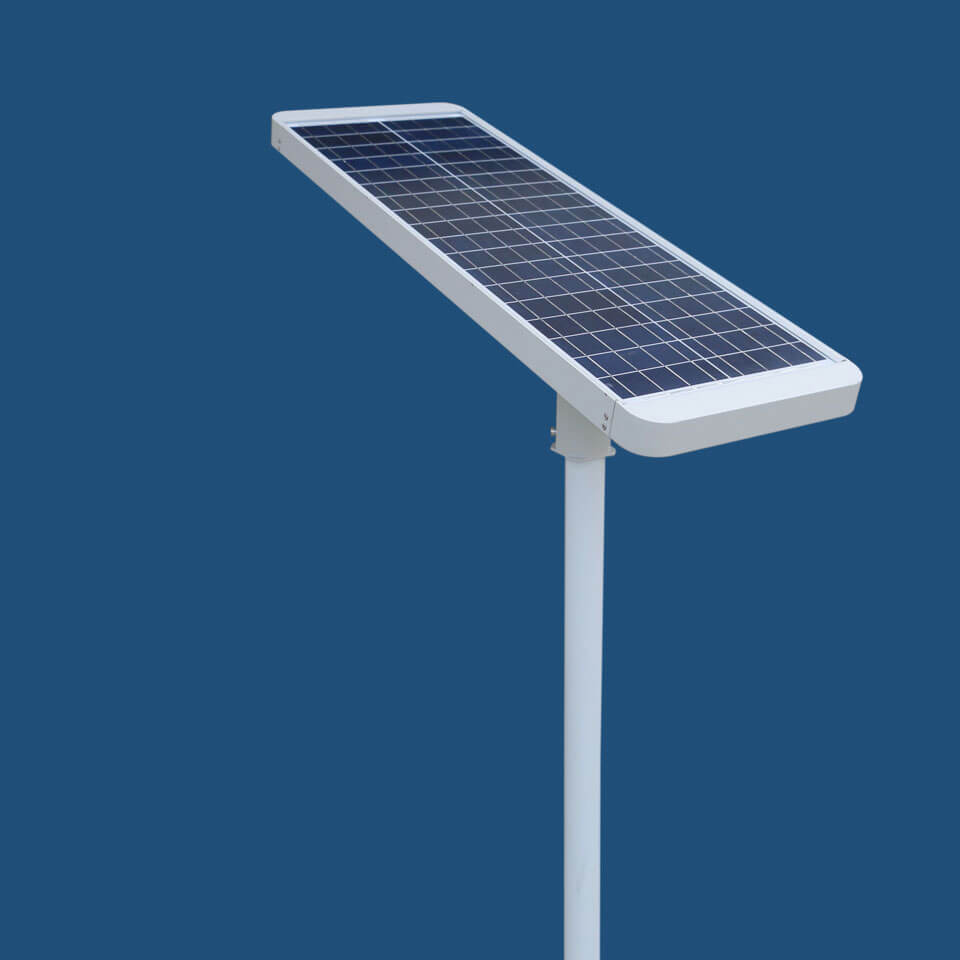 Battery is in the lamp body.

Battery replaceable, simply open several screws to replace the battery pack.

All in one aviation aluminum housing, strong and durable structure. Quality from outside to inside.
Unique lens and wide beam angle light distribution, the large distance between poles, fewer lamps are needed to make the cost of the total project less. 

Very high  brightness Korean brand Seoul led chips
Intelligent MPPT controller with PIR motion sensor automatically controls and protect the working condition of the lamp.

Energy management system( EMS ): ensure as long as 10 days rainy days backup.

Overcharging and over-discharging protection.

High temperature working protection.
High Efficient Lithium Batteries, good high-temperature performance, can be large current discharging, more than 800 times of recharging.

3 years warranty, 6 years lifetime, optional 8 years lifetime battery.
Solar Street Lamp BM Application
Contact us to get a free quotation!