Baseball/softball field lights cost
Lighting cost

Installed cost

Maintain fee
Since 2014, the Seattle Mariners, the first main league baseball team to support use LED high power light to illuminate their home stadiums has promoted the demand of LED stadium lights. Baseball field lighting solution is important for players and fans.
For the stadium owner, in addition to taking into account the best led lighting design, the fee of the entire stadium, include lighting costs, is also considered. Stadium lights for public areas such as the recreational softball field or school softball fields will cost about $ 20,000 to $ 70,000. In addition, if your stadium is participating in the MLB Championships or the Olympic Games, like the fee of Major League Baseball (MLB) will increase. They have high requirements levels for luminaires, all performance must meet standard, which will cost about $ 90,000 to $ 180,000. How much does the baseball field lights cost need depends on the brand and source of your LED light fixtures.
1. How much do baseball stadium lights energy cost?
Take one of our customer project case studies to support more intuitively the energy fee of softball stadium lighting.
Electricity fee analysis
LED sports light
MH stadium field lamp
Actual power consumption
600 watt
1200w+90w=1290 watt
Power consumption
per day
5400 watts
11610 watts
three years
5,913,000w
12,712,950w
Electricity consumption
three years
5913kWh
12,712kWh
Energy fee (single)
three years
$591.30
$1,271.20
Energy fee (72pcs)
three years
$42,574
$91,526
Saving costs
MH-LED=
$48,952
This year, our customer wanted to buy LED lights for softball field game lighting, but he wanted to estimate how much the replacement project could save. We built the fee form for him. The basic information of the project is: 600w sports light replaces 1200w MH light (requires 90w ballast) one by one(72pcs), lights up 9 hours one-day (1:00 pm-22:00 pm), and energy fee is $ 0.1/kwh. For a stadium using 78000w led lights, the cost of a baseball field lamp is 78000/1000 * 0.1 = 7.8 USD per hour, which is equivalent to $70/day. The same brightness can be achieved with 1200w metal halide lights for baseball fields, which means $140/day, which is a 2 times fee than the former. In three years, you can save the money: $48,952 with led baseball field lights! If you want a similar cost analysis, please contact us by phone or online message.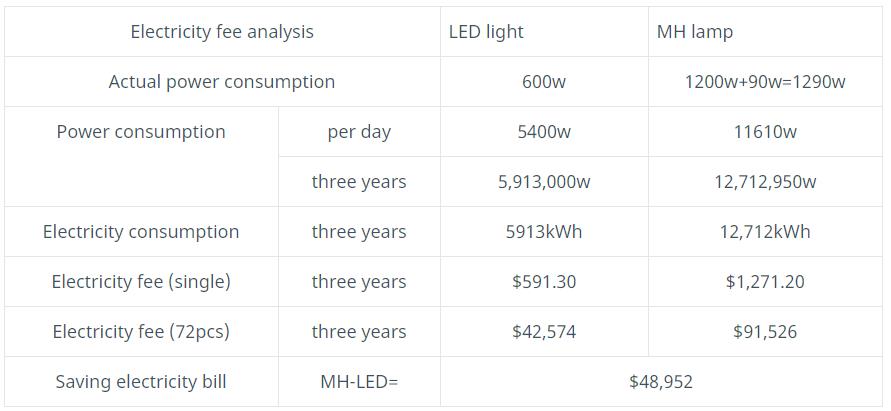 2. How about the installation cost of baseball field lights?
Its fee is uneven, the installation cost will be higher than the fee of the light, 30-80% higher. This requires careful negotiation between the employer and the electricians or contractor to avoid unnecessary mount costs. LED sport lights are mounted in softball stadiums lighting. They can be 4-8 poles (15 to 50 ft in height per pole) and 10-20 fixtures on one pole. The specific number of sports lighting poles and lights depends on the size of the venue, the lux value to be reached (300 lux for leisure competitions, 1000 lux for professional competitions), and the formation of shadows in the ground. If you don't know how to install a pole in a baseball field, follow these poles location guidelines.
The ideal setting is 6 or 8 poles.
 Two rods should be placed behind the vertical plane of the bottom plate.
 Two poles should be placed along the first and third reference lines, and the distance varies according to the fence line.
 Two or four poles should be placed in the outfield. There should be no poles in the middle 20 degrees of the midfield to protect the eyesight of the batter.
 The pole height is directly related to the magnetic field distance to maintain uniformity.
The magnetic pole array should be as wide as possible to minimize glare.
Mounting them can be a challenge, and when the pole is high, the fee of payment can be high. In particular, please hire professional electricians for high-demand installations.
3. What is the cost to maintain the baseball field lights?
Led lamps require almost no maintenance cost, which is is the result of using vintage baseball lamps for so many years. HM lamps need to be replaced after one to two years, which is really a headache. In order to reduce such problems, led light fixture systems have made great improvements in quality. It has a lifespan of 50,000 and IP66 waterproof rating, lights up 9 hours a day, 20 days per moon, can be used continuously for 20 years without damage. They also have a good heat dissipation system that can lower the junction temperature of the chip that protects the lamp. The traditional light is the only 11,000hrs, which needs to be replaced within 1-2 years. because it does not have sustainable LEDs like led lighting fixtures, and there is no color temperature to choose from. The maintenance fee cannot be underestimated.
Conclusion
The venue and demand determine the softball field lighting cost and price of the outdoor fixtures, so no specific price can be given. But compared to buying products from the United States, the Chinese softball sports fixture is 4-5 times cheaper. Why not buy products directly from China company to replace the tradition stadium lights or your new illumination project? You can contact us to ask for a free quote. Every process is strictly controlled from the purchase of raw materials to the production to the inspection before leaving the factory which can efficiently eliminate the quality concerns. This also gives XSY Lighting the confidence to provide a 5-year warranty or even a 7-year warranty service. Please see this page for the high lumens stadium lights available from XSY Lighting company.