In this fast-moving 21st century, LED lights are much more efficient and energy efficient than fluorescent or incandescent lamps/bulbs. From the company's president to the warehouses manager, the factory production staff found that by transforming the high bay or low bay lighting fixture into their correct height space. The feedback that products could save more than 30% of the monthly electricity bill. Before starting the bays Lighting project, in addition to defining high lumen output UFO/round and linear bay lights, you actually need to identify the differences between lowbay lights and high bay lighting fixtures.
High bay vs Low bay
1. Ceilings installation height is different
LED high bay lighting fixtures are used to illuminate high ceiling spaces. These are usually warehouses, factories, and hangars with ceiling height ranging from 20 feet to 45 feet. (unti: feet/foot)
The lowbay lights fixtures are installed between 12 foot and 20 foot high and are seen more often in retail stores, grocery stores, shop, garage, and workshops.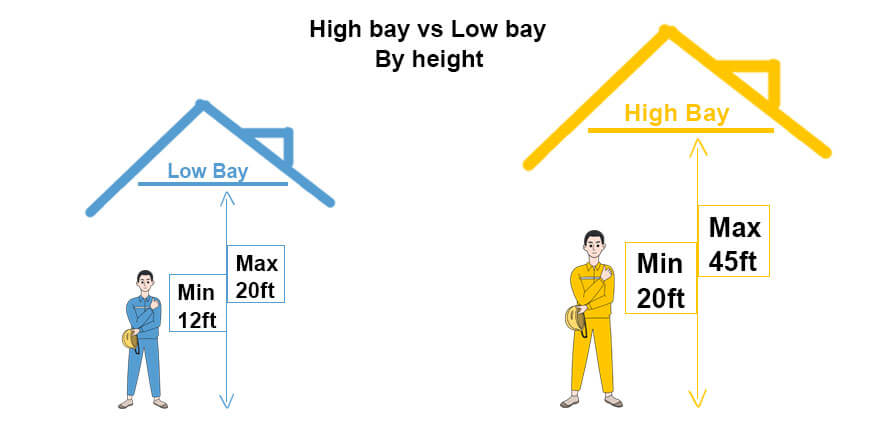 2. The difference in wattage
You will find bay fixtures that are 100w, 150w, 200w and even higher high bay led lights, which can be used to replace traditional bulb bay lighting lamps such as 300 watt, 400 watt metal halide bay lighting, HPS bulb bay lighting lamps.
The wattage of the lowbay lights are between 10w and 100w. In fact, the low wattage in high bay lights, such as 60w, 80w, 100w is also suitable for use as low bay lighting.
3. The difference in lens angles
In order to ensure that the light reaches the ground evenly and reduces the waste of light, the led high bay fixtures are equipped with reflector or a lens. With lens angles of 90° or narrower 60°, this design makes bay lighting spread more efficient.
LED low bay beam angle is 120°, which is because they require fewer lumens to reduce less light. Low ceiling lighting no need to worry about the waste of light like led lowbay lighting.

Conclusion
When buying high bay lights or lowbay, the ceiling height problem of the site is always the deciding factor. If used incorrectly, it will affect the lighting of the entire space. Imagine that when you install low bay lights led in a warehouse in a high shed, lack of light means a lack of proper visibility and impact on work efficiency. The light fixture for low ceiling retail store, using hi bay lights with high lumen  output to flood the ceiling will definitely suppress the space. Using the wrong light fixtures will inevitably lead to unnecessary costs, excessive electricity bills or excessive maintenance costs. To avoid this, we always recommend that you seek advice from a professional before embarking on a solution. If you need help with the high bay lighting vs low bay definition or design a lighting solution, please be sure to contact us. XSY Lighting is one of the most professional lighting experts.